On your slides! Ready, set, go!
Is the weather not the best but your children want to do something fun? Then off you go to the KärntenTherme thermal spa! Here, children of all ages have countless possibilities to be entertained.
The KärntenTherme thermal spa is a true water paradise for children. Watch your little darlings whizz down the two 85 and 75-metre-long water slides with tight turns and sound and light effects. Once at the bottom, it's straight back to the top and down again! By the way, the slide is controlled by traffic lights to ensure the fun is absolutely safe. Then it's off to the indoor wild river of the thermal baths, the Crazy River, on which your children can zip down on an inner tube. At the weather tower, children and adults can experience the forces of nature up close, such as a tropical storm, drizzle, or a downpour. The water adventures are accompanied by underwater music and lights. Very young guests can have fun on a smaller slide, in the children's pool, and with the water hedgehog. In the warm season, an outdoor water playground is also available for the little ones.
All of a sudden: a mermaid!
If your children have always wanted to be a mermaid, you can fulfil their dream at the KärntenTherme thermal spa. At a course for children from the age of seven, little ones will learn the various swimming techniques to swim like a mermaid. The fins can be borrowed free of charge.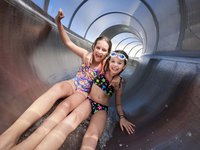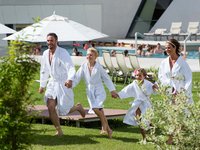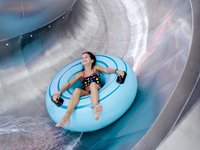 highlights for the little ones